Sean and I have been married fifteen years today. I'm going to give you a shred of honesty here. It's been hard. I know you've heard people say, "we've gone through a lot together but I wouldn't change a thing and we're better for it." Eh, that's not the kind of hard I'm talking about. I'm talking about the kind of hard that says I'd change plenty if I could. It's less the kind of hard that "we face hardship together and get through it" and more the "our battle wounds are largely from each other and we'll see if we get out of this alive". It's not pretty to admit, but there it is.

When things begin unraveling in marriage (or parenthood, work, and hundreds of other things for that matter) it's easy to proclaim, "This is NOT what I signed up for!" and frantically work to change it, control it, or bail on it. It isn't easy to resolve, "Yes, this might not be what I thought I signed up for but indeed, I signed. I may not be able to change it, control it, or bail but if I believe God can give peace and purpose even in the difficult, why should this be any different?"

Photo cred: Evan Oliver

---

I grabbed a hair tie from the bathroom while Darla showered. From the other side of the curtain, "Mom? Oh, good. I was just thinking about things to ask you."

I paused. 10 yr. old Darla is much like me in many ways,
Powered by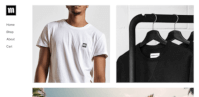 Create your own unique website with customizable templates.