This summer is misleading. The blackberries are nearly ripe, the corn is as tall as I am, and my kids' tans are of the August variety. We keep thinking certainly rain is around the corner, but each morning the sun is back. I was raised by a mother who detested the rain and taught us when the sun is out to drop everything and soak it up. In the Northwest that typically leaves plenty of rainy days to be productive. That hasn't been the case this year, so please don't look too closely at my neglected to-do list or cluttered house. We've been busy....

I believe in plenty of unstructured, creative days packed with important things like watching tractors, running through sprinklers strong enough to knock you down, and discovering secret swimming holes near the river. (If that "swimming hole" Is more of a stagnant, muddy pit then we hose off when we get home.)

Our productive time is used for skills that are hard to squeeze in during the school year. I'm teaching my sister-in-law how to garden and we've given ourselves plenty to maintain.

Darla learned how to bake cookies and muffins with no help. Everett is learning to read independently without me hovering. Haley Kate tried tubing behind a boat and is asking to remove her training wheels. Hudson is learning guitar.

I'm learning to kick back a little as my kids grow in independence and our days don't revolve around nap times.

My 35th birthday was a couple weeks ago. I celebrated by hiking with my family, tubing with my sister and her kids, and learning to paddle board.

Five years ago I declared my 30s would be my best decade. It hasn't panned out the way I expected, but hey–that decade between 10-2



0 years old is hard to beat anyway.

My prayer when I turned 30 was out of Ezekiel 11:19,

"I will remove from them their heart of stone and give them a heart of flesh."

My hope was that God would soften my heart. I asked Him to pull out the areas I was cold or closed. I wanted to grow in humility instead of bitterness. He is accomplishing those things but it can be ugly work to identify hardness of heart, and messy to remove it. (My prayer for the next decade might simply be for it to be ridiculously fun.)

Here at the halfway point of my 30s I am thankful for God's pursuit even if I'm not always thrilled about the method. I'm thankful He offers sweet spots (like early morning runs on my favorite route):

I'm thankful I don't have to quantify this as "best" decade, year, summer, or anything. I've learned that most of life contains a big dose of highs and lows that aren't easily categorized. Much of my life looks like this literally and metaphorically:

I trust the Lord will keep using the messes. Even when I'm tripping over them (literally and metaphorically), I still have this view to look forward to:
Powered by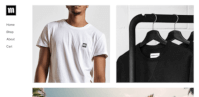 Create your own unique website with customizable templates.